These keto breakfast ideas are so tasty and healthy, & they will keep you full until your next meal.
Until you are on a keto fast, skipping breakfast is not a good idea.
Breakfast is considered to be the most crucial meal of your day, & this is also applies to the people who are on keto diet.
13) Egg Muffin Breakfast
These tempting egg muffins are definitely your go to option of a healthy ketogenic breakfast. Bored of those regular fried eggs, try this egg muffin recipe out. Garnish it with some Italian seasoning, crushed chilli flakes and it's ready to be served. It's also great recipe when you have guests at home. So, try this out!
Check out the recipe here
12) 3-Minute Cinnamon Roll Mug Cake
Good quality almond flour with the perfect sweetener, you can make a tasty tempting cinnamon cake for breakfast even when you are on a keto diet. The best thing about this cake is that it is easy to make and can made in just 3 minutes. Kids are going to love it, an added advantage.
Check out the recipe here

11) Coffee Cake Muffins
A perfect almond flour recipe, which you should definitely give it a try. These muffins actually don't have coffee in it. But they go perfectly well with it. So grab a cup of your coffee and enjoy your morning with sweet ketogenic diet.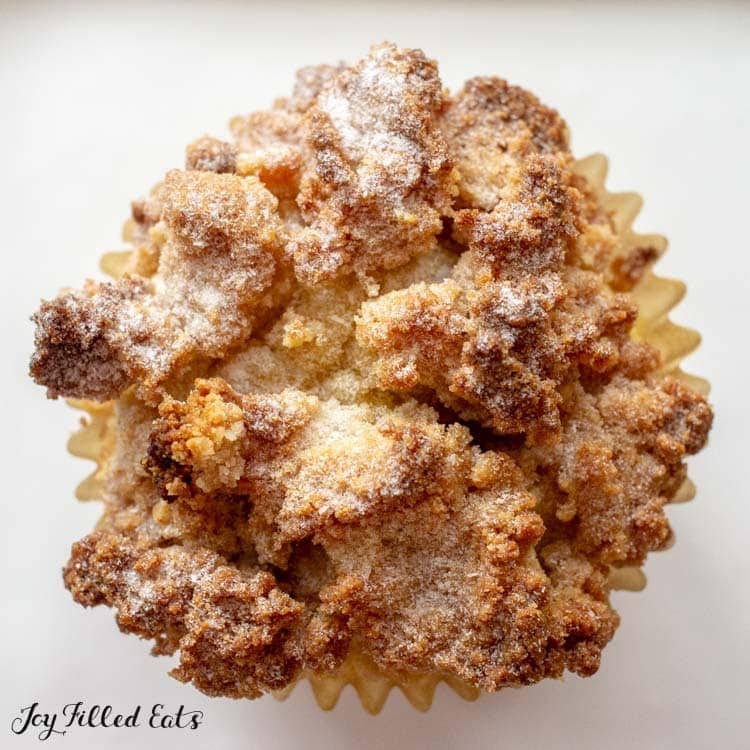 Check out the recipe here.
10) Keto Peanut Butter Cookies (3-Ingredients)
A perfect keto peanut butter cookies are full of right nutrients which will give a boost to your energy and perfect to start your day with. A 3 ingredient recipe which can prepared in just 15 minutes can also be stored for 10 days in a sealed jar.
Check out the recipe here.
9) Keto Cocoa Chia Pudding (4.5g Net Carbs!)
Keto and dessert not a perfect combination! A myth. Here is the perfect keto cocoa chia pudding perfect for your cravings for something sweet and can indulge in guilt free.
Check out the recipe here.

8) Creamy Low Carb Keto Chia Porridge
A perfect creamy, warm and healthy dish to start your day with. Garnish it with roasted coconut, pecans and hemp seeds, this creamy low carb keto chia porridge is full of all the required nutrients. This recipe can never get old, make your own variation swap it with your favourite seeds and nuts.
Check out the recipe here.
7) Perfect Keto Full-Fat Coffee
A few sips of this healthy keto coffee and you are ready to start your day. It has the right amount of caffeine and healthy fats, which will not only give you a ton of energy to start your day but will also ramp up your metabolism to burn those extra fat
Check out the recipe here.
6) Best Keto Breakfast Smoothie Recipe
A perfect spinach, vanilla and avocado breakfast smoothie recipe which will keep you full for hours. This is a super easy recipe to make in those busy mornings. Just blend almond milk, spinach, avocado, coconut oil & vanilla protein.
Check out the recipe here.
5) Keto Hot Chocolate
A go to dish for any chocolate lover. Just replace your conventional milk with heavy cream it would give you enough fat to fit for your keto diet. This contains dark chocolate sans chocolate so you can have it guilt free and stay clean. A perfect winter drink with all the deliciousness.
Check out the recipe here.

4) Avocado Keto Breakfast Burger
This savoury keto breakfast burger is one of the satisfying meals and will keep you full till your next meal. A simple easy recipe to make with all the richness and creaminess of avocado adds the required amount of healthy fat to your meal.
Check out the recipe here.
3) Bulletproof Keto Coffee
Not in the mood to eat breakfast, keto coffee is your go to option, to boost your fat intake. A best way to start your morning with the fat loaded keto coffee with caffeine to jumpstart your day and mind.
Check out the recipe here.
2) No-Bake Granola Bars
A perfect dish which you can bring to work for lunch and also as meal prepping and the most important thing, your kids are going to love it. So gather all your organic unsweetened coconut flakes, erythritol, flaxseeds and chia seeds and you are all ready to make this.
Check out the recipe here.
1) Fluffy Low Carb Keto Pancakes
Pancakes are by far the best breakfast and these fluffy ketogenic pancakes are worth trying. Add a low carb sugar free syrup to make it sweeter and enjoy your mornings,
Check out the recipe here.